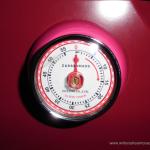 Most of us don't write every day, especially if we're still working in a day job and not making any or much money from our writing.
A daily writing habit is very important.
It helps you add words to your work consistently – and that's the fundamental job for a writer. You are creating stories, you're creating content. That is the core of your business as writer.
A little math… 100 days to 50,000 words… a novel.
Just a little math here, to convince you: If you write 500 words a day which is quite doable in half an hour to 45 minutes, it will take you 100 days to write 50,000 words. That's a little over three months, or about four months if you take weekends off (which is actually a bad idea).
In fact, using touch typing, I get 1,000 words per 30 minutes. This takes practice, but you can get there. Believe me.
50,000 words is a novel. It may not be a really good novel, and maybe you won't be done with your story, but this is only an example. At that amount of words you're sitting on a novel.
Are you Ready for a Daily Writing Habit?
First, you need a story or book to work on. Well, duh, but that is what you're doing. No story, no writing. So set up a file and get going with a story. Any story.
Personally, I have two or three that I'm working on at any given time. At least one of them is in editing, so I can rest my mind if I get stuck in a story or my mind is powered out on one. Editing counts as writing.
Use a Timer!
I've come to love working with a timer. It helps me to focus and really ignore distractions. Any old kitchen timer will work, but I found myself one in a color I love, and with a magnet to stick to my file cabinet (yes, the one in the image above). It's a good idea to make it special. Of course, there are also lots of timer apps for your cell, or PC. Use what works for you, and invest the time to make it easy and comfortable to work with one.
There is a term for writing 30 minutes with a timer : Pomodoro.
The word means "tomato" in Italian. And it became a house-hold word for many authors because the Italian author Francesco Cirillo invented the system and named it after his kitchen timer – in the shape of a tomato. True story.
Check it out here: Pomodoro Technique
Start Building the Habit
Remember, you're creating a habit. You're becoming a writer by writing regularly. And you can start today.
Right now, I have two pomodori scheduled every day through my Mastermind. And yes, I model writing during those 30 minutes, and build my own stories. That gives me 2,000 words per day and has increased my productivity massively.
However, you're just starting to build that habit, and maybe 30 minutes are too much for you at the moment. It pays to start small and build up your writing muscle. Even ten minutes are better than nothing. Which is what I am suggesting to start with if you are a busy person and want to add writing to your day.
Week One – 10 Minutes of Writing per Day
The goal for week One is to write every day – for 10 minutes straight. That's what you need the timer for. 10 minutes of writing, nothing else. Not even a potty break. (Well, okay, if you must…) Definitely no Facebook. You're allowed to add another ten minutes later in the day.
Celebrate your accomplishment. That's very important. It may not seem much to you, especially if there was a time when you could write for hours – but those times are past and you have to train your writing muscle again.
Week Two – 15-20 Minutes of Writing per Day
Week Two, go for 15 or 20 minutes. Again, feel free to add another round later in the day, but make it your priority to write every day, rather than a lot one day and not at all the next day. This is about creating a regular habit.
Week Three – 30 Minutes of Writing per Day
Week Three, go for 30 minutes. And that's as long as one sitting of writing should be. After 30 min (the classic Pomodoro is actually 25 min, with a 5 min break), stop, take a break – and celebrate. Really, celebrate each writing bout.
Week Four – 2x 30 Minutes of Writing per Day
Week Four, go for two sessions of 30 min each. If you're a busy person with a day job and a family, this might be all you can do. And that's fine. You're now writing regularly, and you can keep doing it ad infinitum. And if you really want support, accountability and loving community, join my Mastermind, The Writing Companion.
Measure the Results of your Daily Writing Habit
It is extremely important to measure what you do. I keep a word-count file on my computer and I add to it every day. A simple Excel file is enough. (I offer a template in my Mastermind group.) Make sure you have the date in it and the number of words written per day and in total. You can get more sophisticated later, but this is enough to start.
Then watch the number of entries grow. Watch the total number of words grow. Celebate milestones.
Now you have a Daily Writing Habit.
Now, creating the habit and then keeping it up takes some determination and dedication. And knowing humans (and authors!) I'm certain you'll feel doubt about this project.
I have some EFT-tapping suggestions for that, of course.
Bonus: Tapping Phrases
Even though it sounds like a joke to write just 10 minutes
with a timer, I'm a writer after all, and I now choose 
to develop a writing habit.
Even though this feels ridiculous, I am a writer, 
and I'd love to get back to writing every day.
Even though I really don't think I can do this, 
I'm a writer, after all, and I'm willing to give it a try.
Your Turn
How do you feel when you think about writing every day?
What's stopping you from writing every day?
How do you feel after you have written?
And finally – what are you working on?
Write a comment and share the good stuff!
Image Source: F. Moebius
PS: Forming good habits is very important when you want to be creative. We can actually train ourselves to be creative regularly, and on time.
Don't believe it? Well, that's a limiting belief.
EFT is the fastest way I know to shift limiting beliefs, old thought habits and other kinds of blocks. If you want help with that, click HERE and send me an email. Together, we'll figure out how I can support you best.
PPS: My newsletter contains a full tapping round to go with my blog posts, so you can start shifting your mindset. Sign up through the form on the upper right hand corner, and receive that tapping round plus occasional special offers. If you're on a mobile, you can sign up through this link: Newsletter Sign-up