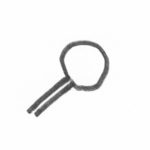 Today, I'm documenting my keywords for my first Amazon Ad, for my book "Dragon Prey" (Hannah Steenbock is my pen name.) Gathering them was quite a chore, because I was a bit picky.
You see, keywords are supposed to drive those people to your ads who have a large chance of liking your book. Basically, you're trying to guess which keywords they put into the search bar on Amazon, so your book can be displayed to them.
I listed keywords in three different categories in my spreadsheet, to make it easier on myself once I get to tweaking ads – by changing out keywords. These categories are:

1) Author and Series Names that are similar to what my book is about.

2) Positive Keywords, identifiying general features of my book.

3) Negative Keywords, telling Amazon NOT to show the ad to people typing those specific keywords.
Now, I don't really want to share those author names, but I will share where and how I dug them up – and this was the really hard work. Continue reading →