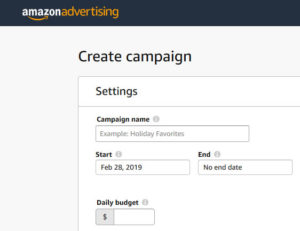 Yesterday, I set up my first two Amazon ads ever.

It was surprisingly easy, once I got the advertising interface to work – it was an Amazon glitch, so I don't expect you to run into that problem.

I followed Brian Meek's guidelines in how to set it up, although I'm fairly certain that the keyword bids are too low and will need fixing. (And yes, this probably sounds all Greek to you right now.) Still, it worked well.

It's worth buying his book "Mastering Amazon Ads", as well as joining his FB group. Because this is not something you can do on autopilot. Use that experience, make it available to you. All you have to do is go and get it.

So now I have two ads approved and running now – and no data whatsoever.

Because reporting is notoriously delayed. Fun times.
However, it took me quite a bit to actually be able to do this.
This is the mindset part.
The part where emotions, limiting beliefs and simple fear meld into a nasty barrier.
Continue reading →